"EEPROM Copy"
EEPROM data is managed with the help of an internal database, which is an integral part of the EcmSpy application. To access the database, select "EEPROM Copy" from the menu. EcmSpy for PalmOS knows three storage locations for EEPROM data, which can serve as a source or a destination when moving EEPROM data:
EEPROM files, found on a memory card or inside the PDA (if equipped with an internal storage)
EEPROM data, already stored inside the EEPROM database
EEPROM data, located in the memory of an ECM
The database is the pivot point of EEPROM data handling on the PDA. Data can be read from a file or fetched out of an ECM, or can be written to a file or burned into an ECM once they are stored inside the database.
Database View

Actionbuttons

Click image for an unscaled view
The database view (marked red in the left image above) shows EEPROM data already stored in the database, imported from file or fetched from an ECM.
As soon as a record is selected in the database view, action buttons appear as shown in the right picture.
Click image for an unscaled view

Export

EEPROM data will be saved in a file on a memory card or in the internal storage of the PDA. The file can be found in the ECMSPY folder, created in the root directory of the storage.

Burn

The selected data will be burned into the ECM.

Info

This action button opens an info box, showing the ECM type, the data size and a small remark, which can be edited to hold information about changes applied or similar.

Delete

Deletes the selected EEPROM data from the database. Please note: deleted data can not be recovered.
To load EEPROM data into the database, they need to be imported from a data file or fetched from an ECM.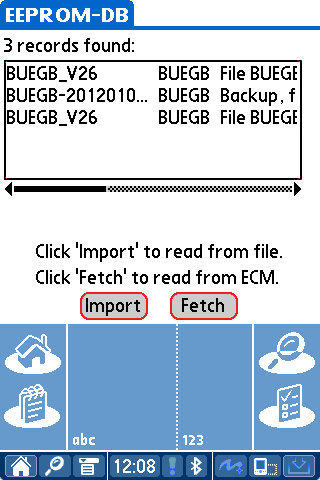 Add EEPROM Data
Tap the "Import" button to read data from a file, stored on a memory card or the built-in storage, or the "Fetch" button to download EEPROM data from the ECM.
Click image for an unscaled view

Import

File selector for choosing a EEPROM data file.

Fetch

Downloading EEPROM data from an ECM, showing the transmission progress.

Remark

Each EEPROM data record is linked to a short note, that can be edited.